High Quality Fencing Materials
When it comes to fencing for your garden, quality materials are a must. They not only ensure durability and longevity but also add aesthetic value to your overall garden design. That's why at Heath Landscapes, we only use high-quality materials for all our fencing projects.
We offer a wide range of fencing materials including wood and concrete. Our wood fencing options are made from the finest quality timber which not only guarantees durability and strength but also minimises our impact on the environment.
Whether it's domestic or commercial projects, we are committed to providing a consistent, high-quality work that aligns with your schedule and fits your budget.

Fencing Panels
Larch lap panel – These are usually a cheaper panel made from rough sawn horizontal overlapping boards pinned between battens and framed. They are a perfectly adequate option but not always suited to kids with footballs .
Close board panel – This is a stronger style of fencing made up with thicker vertical overlapping boards on 3 horizontal rails and framed.
Trellis Panel – This is usually more of a screening option, often used where full privacy is not required, as a guide for climbing plants. Trellis can also be used in small sections on the top of panels. Trellis is generally made from timber battens pinned in squares of varying sizes.
Decorative panels – These are usually the most expensive choice but offer lots of options when you want a certain look or feel. They are made of woven slats of smooth treated timber using incorporated lattice and trellis work with offset angles to produce high quality stylish panels.
Feather edge fencing – This has a similar look to close boarded panels but it is all made up as you go rather than bought in panel form. The rails are a little thicker and it comes as standard in 3 and 2.4 metre bays although it can be easily adapted.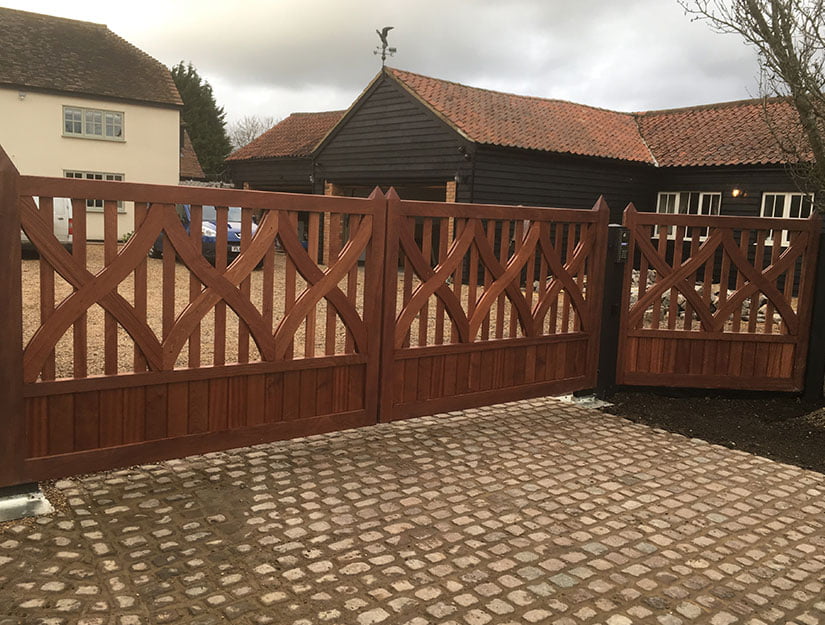 Fencing Installation
A garden fence plays a crucial role in the overall design, offering both security and privacy to the outdoor space. Additionally, it can serve as a decorative feature, enhancing the aesthetic appeal of your garden.
Choosing a fence that complements your garden's style and size, while also being sturdy enough to endure various weather conditions, is crucial.
If you don't have a specific look and material in mind from the start, we would be delighted to offer advice on what would be most suitable based on your requirements.
Other Services
At Heath Landscapes we offer a wide range of landscaping services including landscaping, new driveways, turfing, garden design and decking. So please contact us today if you would like us to look at a new garden project for you.