Transform your Outdoor Area with Lighting
Garden lighting is a vital aspect of any garden design. It not only adds an aesthetic appeal but also serves practical purposes such as providing safety and security, extending the usability of outdoor spaces, and highlighting specific features in the garden.
Garden lighting is an excellent method to enhance the appeal and welcoming ambiance of your outdoor area. It has the power to completely transform your outdoor space, creating a captivating atmosphere that allows you to enjoy your garden in a whole new way once the sun has gone down.
Outdoor lighting can be utilised to elevate the charm of any landscape, whether you desire delicate touches or striking effects, and truly breathe life into your garden.
By choosing the appropriate fixtures, we can assist you in crafting an ambiance that not only enhances aesthetics but also adds dimension to accentuate specific areas and elements of your garden.
At Heath Landscapes we are experienced in the design and installation of garden lighting, and we are here to help you transform your outdoor space.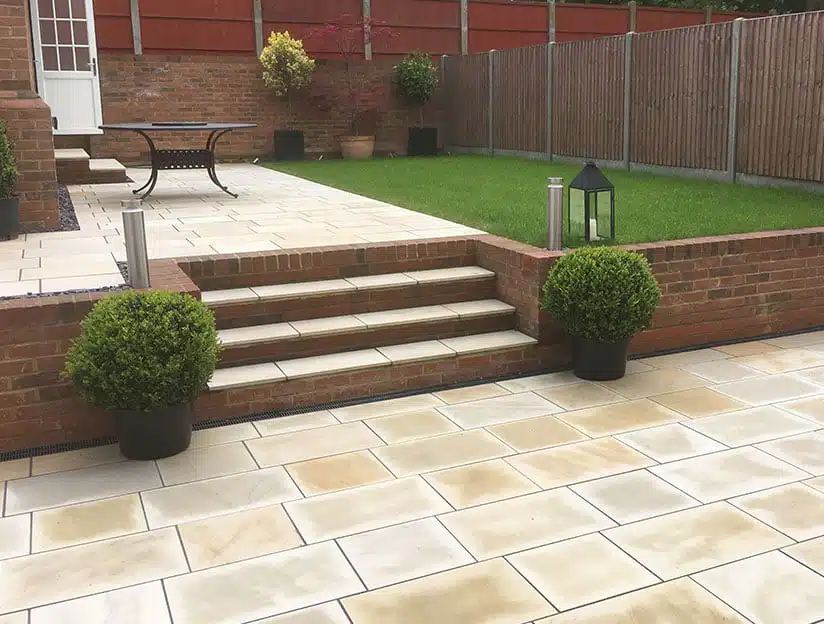 Types of Garden Lighting
There are various types of garden lighting that can be used to enhance the beauty and functionality of your garden. These include:
Path Lights – Path lights are used to line walkways and paths, providing illumination for safe navigation at night.
Spotlights – Spotlights are directed beams of light that can be used to highlight specific features in the garden, such as trees or sculptures.
Floodlights – Floodlights provide wide-spread lighting and can be used to illuminate large areas of the garden, such as a patio or seating area.
Uplights – Uplights are placed at ground level and project light upwards, creating a dramatic effect on trees, shrubs, and other vertical elements in the garden.
String Lights – String lights add a whimsical touch to any garden with their soft glow. They can be hung over seating areas or wrapped around trees and bushes.
Wall Lights – Wall lights are mounted on outdoor walls and provide both ambient and functional lighting for patios, decks, and other outdoor living spaces.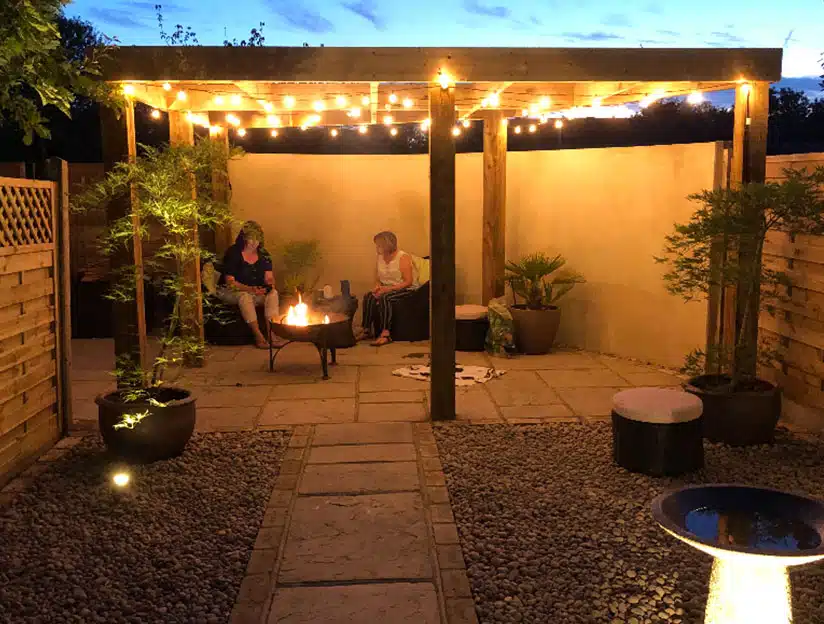 Choosing the Right Garden Lighting
When deciding on garden lighting, it's essential to consider the overall design aesthetic of your garden. You want the lighting to complement and enhance the existing elements rather than overpower them.
It's also important to have a good balance of different types of lighting to provide both functional and decorative purposes. For example, path lights not only provide safety but can also add visual interest to a garden pathway.
In addition to design considerations, it's crucial to choose energy-efficient and weather-resistant fixtures that will withstand outdoor conditions and save on energy costs in the long run.
If you are unsure about what kind of lighting would be best for you and your garden, our experienced team would be happy to give you suggestions and discuss your ideas.
Other Services
At Heath Landscapes we offer a wide range of landscaping services including fencing, new driveways, turfing, garden design and decking. So please contact us today if you would like us to look at a new garden project for you.